Career
We are always hiring quality people that take pride in their work and understand the importance of reliability and consistency. We offer the best work environment.
Nationally the turnover rate in the security guard industry is as high as 300 percent; Vested Security's turnover is less than 32 percent. Vested Security has achieved this through the hard work and dedication of all of our employees. Our staff enjoys the Vested Security culture, which includes the following Employee Retention Programs:
Employee Referral Incentive
Blue Ticket Bonuses
Suggestion Award Bonuses
New Business Lead Bonus
Personal Time
Holiday Bonus
Quarterly Bonuses
Make-a-Buck(s) Awards
Anniversary Awards
Go-To Guard of the Year Award
Security Officer of the Year Award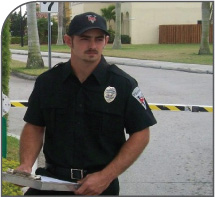 Job Summary
Provide quality customer service to customers, patrons and employees. Establish working relationships with customers, vendors and employees in fulfilling assigned post orders. Take an active role in assisting customer with other duties that may not be included in job description and are approved by the Security Manager. Staff must possess and maintain a professional image at all times.
Qualifications of personnel
The following are the minimum qualifications, which an individual needs in order to successfully perform the duties and responsibilities of this position. Please note that the minimum qualifications may vary.
Minimum of 18 years of age.
Posses a valid class "D-License"
Clear a criminal background check.
High School Diploma and/or equivalent (GED)
The ability to meet and deal with the general public.
The ability to read, comprehend and apply: printed rules, detailed orders, instruction, and training materials.
The ability to maintain poise and self-control under stress.
The ability to construct and write: clear, concise, accurate and detailed reports.
Apply Anytime!
www.guardjob.com
Or Call 305-253-4000